Vivere Double Hammock with Space-Saving Steel Stand Review and Rating
Getting out in the outdoors with only a tent is passé nowadays. Using a hammock along with one is much more fun and comfortable. Today's hammocks can be made weatherproof. They can even protect you from bugs. They are also now easier than ever to setup. Many now come with a frame that sets up anywhere. So, why not hand a hammock where you pitch your tent. It could be near a lake, pond, or a beach. You can enjoy the air, light, and the gentle wind. All of which act as a lullaby to help you take a nap. You will not be cooped up in the confined space of a small tent. You end up sharing tight quarters with all your gear. Instead, Vivere offers two people an outdoor experience that is not possible using a tent alone can bring. You sway gently in the breeze and enjoy nature the way it was meant to be as you relax out in the open air.
Who is this product for?
This hammock is made for a person who wants to be out under the sky. Whether are in the hammock alone or with company. This does not mean it needs to be out in the woods. Many set up a hammock on the porch, near their pool, and out on the backyard lawn. Sleeping in a hammock is comfortable, especially if you have had a stressful day at the office. 30 minutes is all it takes, and you are refreshed as if you slept for hours. In fact, you may like sleeping in a hammock. So much that you will toss your traditional bed. You will move your hammock indoors, and take up sleeping in a hammock permanently.
Features
You would think setting up a hammock would be a daunting task. You may have heard they are hard to hang. You might have heard about people falling out of one. A person resting in a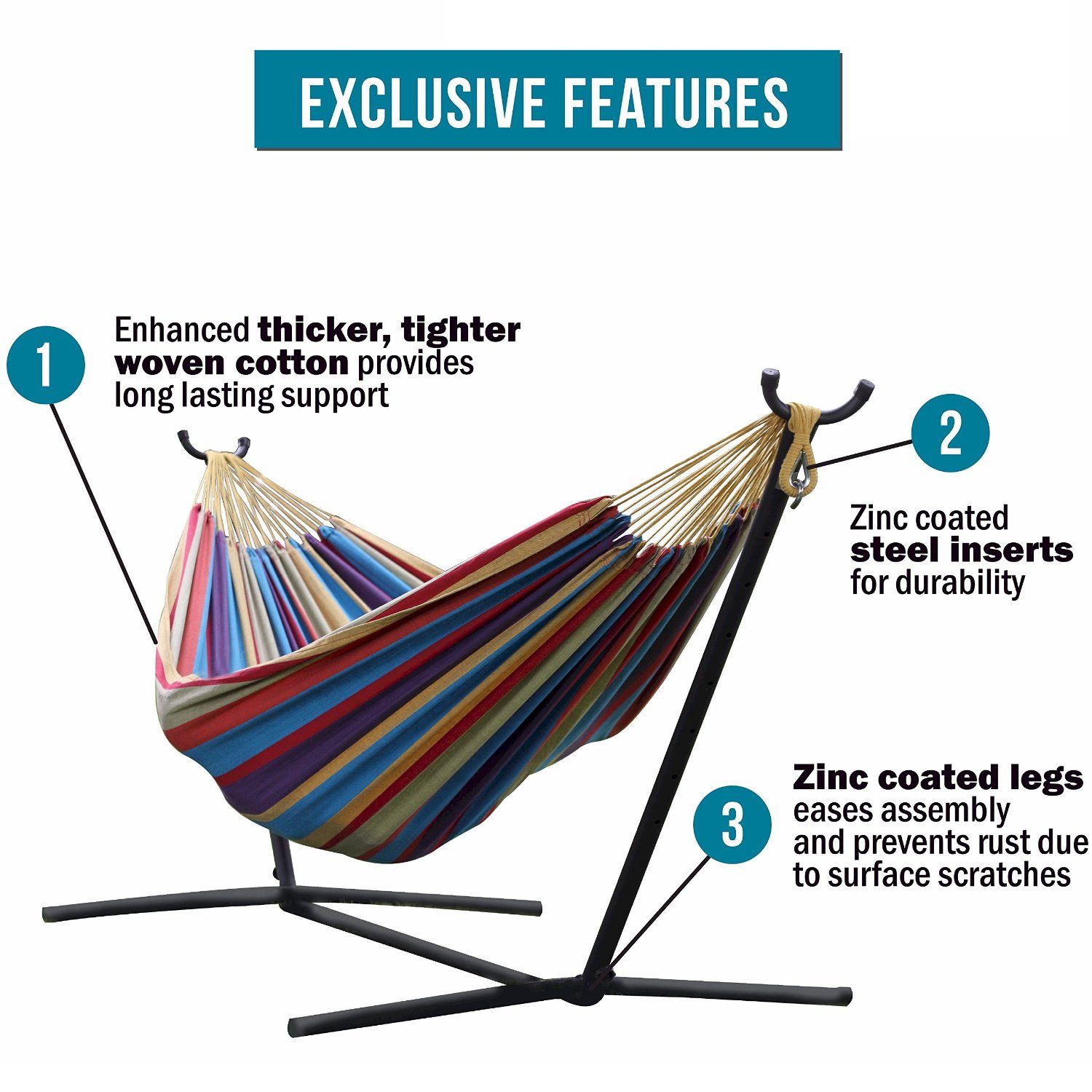 hammock could end up landing on their duff. This is not true. When the hammock is properly hung, it is safe. Your double hammock hangs perfectly for one person to snuggle in or for two to rest comfortably in. Your hammock can hold up to 450 lbs. You wouldn't be tossed out either. The steel frame is spaced perfectly to hang your hammock at just the right height. It forms the half smile curve, which provides maximum stability and comfort. Colorful as well as comfortable the rainbow patterning lightens up your backyard. The Vivere hammock sets a fashion statement. You can hang it indoors. Here it doubles as a chair or love seat. This lets you enjoy a video, play computer games, and laze around all day. With the hammock's sturdy carrying case. You can break your hammock down. Then take it with you anywhere you like. Set up under an awning or a cabana on the beach. You now have a superb place to take in the ocean breeze. You have all the sights and sounds of an exciting day playing and relaxing with the surf, sand and the sea. You wouldn't get sand all over as you would be laying in it as you are suspended being rocked and lulled by the sound of the waves rolling in and the gentle motion of a sea breeze as well. Suggested Reads:
You may not want to go to the beach. Perhaps a clearing or near a favored fishing spot is more to your liking. In this environment, you again set up your hammock. After you are tired of swimming or fishing, retire to your hammock. Then, take some time to rest up for even more fun later. When you want to rel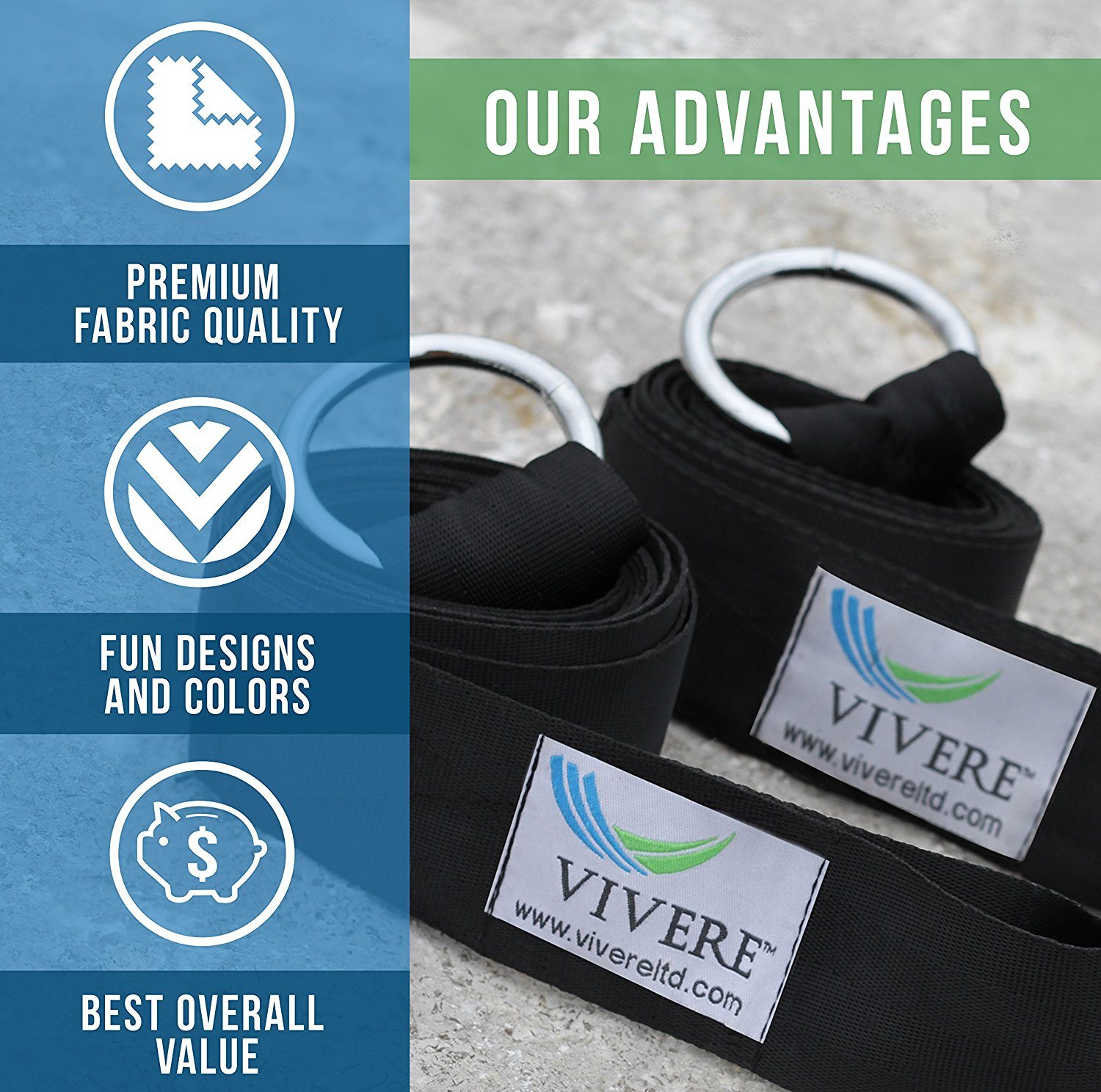 ax and rest in the shade, pitch 4 poles and cotton, cloth provides a shady retreat from the bright sun. The hammock you are resting in is made from the same soothing material. The hammock is machine washable. So, it is ready for use the next time you want to have outdoor fun. The uses you can put the Vivere Double Hammock to is only limited to your desires and imagination. Once you have relaxed in a hammock, you discover it is the only way you will ever want to rest again.
Pros
● You feel like you are encased is a comfortable banana
● Relax without a care in the world
● Get the most restful sleep you've ever had ● Sway in the breeze and never flip over
● The frame goes up fast and simple
● You can carry it on a plane as check baggage
● I replaced my bed in my apartment
● Holds two and is comfortable to boot
Cons
● If you leave the stand outdoors, it will rust. Treat it properly and care for it and the stand will last forever
● When no one is in the hammock, it looks lame
FAQ
Q. Will it hold two people? A. Yes, I've had the dog, the kids, and the wife in mine Q. I've heard the frame will rust. A. Any steel will rust if exposed to water and air. Proper maintenance of the finish and drying it off after a rainstorm will stop rust from occurring. Q. How long does it take to set up? A. You can set it up in under 10 minutes after opening the box. Q. Can I take the hammock and frame on a plane? A. Yes, you can check it in as luggage as it is light and even with the frame comes in under the weight limits for airlines today. Q. Can I take the hammock and frame camping? A. Yes, it all fits in the carrying case and you can set it up anywhere you like. It only weighs 30 lbs.
Final Verdict
Here is the dream of many campers and the outdoorsman. You have a hammock that goes camping with you or on outings. It is simple to set up. The colors are attractive. The hammock also comes in a wide selection of patterns. These patterns and colors fit most decors in a home as well. This means the hammock can be set up indoors as well. The idea of having a love seat or chair made from a hammock is catching on in many people's dens and recreation areas. They are comfortable and easy to care for. For the beach, there is nothing better. When you are out under the sun in this hammock, you never want to leave for home. The weight of the hammock and stand are only 30 pounds. It can fit in your car or SUV easily. It allows you to set it up anywhere. You can go to an outdoor concert under the stars and not have to lay or sit on the cold ground. So, you now have comfort that goes to any venue you choose, and it is priced economically as well. Buy Vivere Double Hammock