Best Hammock With Mosquito Net for 2022 – Reviews & Ratings
Everyone loves a good hammock, but nobody likes waking up with mosquito bites all over. Because of this, there are a lot of factors that go into picking the right hammock with mosquito net.
What to Look for in a Hammock With Mosquito Net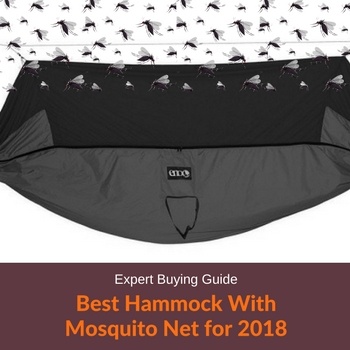 For one, you're going to need to look into the proper model. A parachute nylon single is for single sleepers, parachute nylon doubles are for those who are sleeping alone but need a large amount of space, ultralights are for those who want the lightest hammock possible for their gear, and an expedition is for those planning a long trip and needs a durable hammock.
Weight capacity is something you also need to look for, obviously. The majority of hammocks will have their weight limit clearly labeled, so this isn't too much of a worry. However, always make sure you are aware of how much a hammock can hold before you make your purchase.
Insulation is another important factor you, obviously, need to consider. The majority of hammocks are made with breathable nylon, but that's not what you want during the night when the temperatures drop. Top quilts and under quilts are what you want to be looking for when it comes to overnight trips.
Finally, your hammock is only as good as its suspension system. Although, make sure you either have suspension gear already, or look into a hammock that comes with said gear. Some hammocks don't come with any, so always make sure you double check.
The JungleNest Hammock by Eagle Nest Outfitters is currently priced around $100. It combines the hammock with a 950-square-inch bug net with a full-length zipper that ensures you won't have to go into battle to get in or out of it. Unfortunately, the hammock straps are not included, so you will have to get those on your own.
What it does come with, however, is aluminum wire gate carabiners and nautical-grade line along with stainless-steel snap links that allow you to quickly set it up on any support you can image.
It's made from 210D nylon taffeta rip-stop material with heavy-duty triple seams designed to have a maximum weight capacity of up to a whopping 400 pounds.
As the name suggests, the Double Parachute Hammock by Covacure is a double parachute that will only cost you $25! It also comes with a 6-month guarantee for 100% money back.
It comes with carabiners and straps, but, unfortunately, it does not come with nautical rope and length for the carabiners, so you will have to provide those items yourself. It does, however, have a maximum weight limit of up to 440 pounds.
It's made of a lightweight, breathable, triple-stitched and durable woven 210T nylon that supports reduced pressure points for the best sleep experience possible. It also dries rather quickly and is small enough to fit into practically any pack or gear.
The Hammock With Mosquito Net by isYoung costs approximately $28, is suitable for up to 2 people, and has a maximum weight capacity of up to 440 pounds. It comes with 2 steel carabiners and 2 118" of nylon ropes for a steadier suspension set up.
It's made of 70D antibacterial, breathable parachute nylon fabric with reversible zippers and needle-like mesh. You can use it as a hammock with mosquito netting, a sleeping bag, a swing, and even a tent.
The SunYear Hammock by TinyBigAdventure is currently priced around $36 and has a maximum weight capacity of up to 400 pounds. It comes with the necessary ropes and carabiners needed to suspend it that are both easy to use and fully adjustable.
It's made of a professional-grade 210 ripstop nylon with a triple-stitched design and a quality pattern that reduces pressure points and allows for a night of safe, reliable sleep. Support is provided to relieve pressure on your feet and your shoulders while ensuring that sinking in the middle does not occur.
It's also breathable, able to dry quickly, and comes with a 6-month 100% money back guarantee. It's advertised as being a single person camping hammock with mosquito net, but reviews have mentioned that up to 2 people are able to safely fit and sleep in it.
The Mosquito Net Camping Hammock by Krazy Outdoors can be found for as little as $25. It's made of high quality, 210T-coated ripstop nylon material that is resistant to both rot and mildew. It's the best hammock mosquito net for short trips and has a maximum weight capacity of 240 pounds, ideal for single person use.
The No-see-um mosquito mesh ensures that no bugs, no matter how small, won't make an entrance. It's also fully waterproof and small enough to fit into any bag when rolled up and packed into the small included bag.
It doesn't, however, come with any suspension equipment, other than a shock cord, so you will have to provide all of that yourself.
The Best Hammock With Mosquito Net
Ensuring that you look into the best hammock with mosquito net by remembering to take note of model types, weight capacities, suspension systems, and insulation is the best way to get a quality product that will last.
If you already own a hammock that you love, click (here) to check out our review of 2022's best selling hammock bug nets.